Personal Training
Personal training offers the individual an opportunity for one-to-one training, enabling the participant to reach their training and fitness needs, with expert advice and support.
Further advantages of working with PT are: appropriate training schedules – realistic goals – continual monitoring – training times to suit you – nutritional advice (vital, if one of your aims is to lose body fat) and much more.
After your initial consultation, where health and fitness base lines are taken and goals and fitness needs are discussed, a typical session would last for an hour and include, Cardiovascular Training, Resistive Training and Pilates, and undertaken in a completely private gym.
Getting Started...
… with East Devon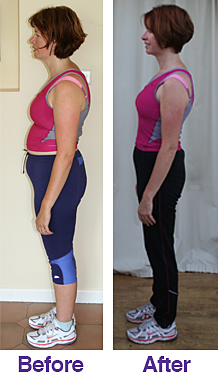 Health and Fitness personal training.
We offer a Personal Training Initial Consultation lasting approximately 90 minutes to 120 minutes during which, comprehensive information is gathered through such checks as:
blood pressure and resting pulse
body fat % calculation plus right weight for height and correct body fat% for you
cardiovascular stamina
flexibility and postural assessment
nutritional assessment and advice
With nutritional supplement advice if required. Time is also taken to establish, exact goal setting and rapport.
To the left you can see how successful the right programme can be, when all the above factors are taken into account.
What's Different about Personal Training...
… with a qualified East Devon Health and Fitness Instructor.
Your Instructor with her extensive experience including 'sports massage therapy' background, brings that extra knowledge to her coaching, enabling an overall holistic approach to her support, accommodating your needs, what ever your specific challenges. The well equipped private gym is a real bonus, as it ensures complete privacy for  you the client.
Along with a full bespoke training schedule undertaken in the private gym a further programme is provided for use at home, to back up your PT sessions. Lindsay is always mindful of keeping each session interesting as well as challenging, so variation is the key here, and further adaptations to each session can be made to suit the clients moment by moment needs. Finally but not lastly  fun is crucial to your overall enjoyment and progression …so there will be plenty of smiles (smiling helps you use more muscles!!) along your journey.
For costs please click here