Pilates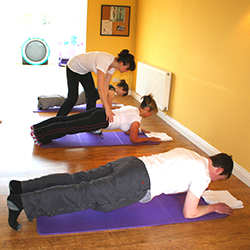 Pilates is a highly efficient method of body conditioning that focuses on posture, breath control, flexibility, toning and strengthening muscles.  Pilates is safe for all ages since its slow, controlled movements strengthen muscle without risk of injury.
The exercises are appropriate whether you are new to exercise or – equally appropriate for professional athletes and dancers who use Pilates to compliment their existing routines to improve their core strength, and in turn their performance.
With practice, you will not only notice a fitter, leaner more supple body, but  also because of the nature of the exercises, encouraging a balancing effect on the muscles, this makes it an ideal form of exercise for correcting postural problems, and can be of great benefit for the back and connected muscle areas. Pilates is an enjoyable form of exercise, that once the fundamentals have been mastered, can be carried out daily in the comfort of your own home.
Getting Started...
… with East Devon Health and Fitness Pilates.
All you need to do is contact us to find out how Pilates would suit you and discuss the best options for you before  booking your first session.
You'll need to wear appropriate clothing for gentle exercising with room for stretching.  All specialist Pilates equipment is supplied by us.
Having completed your first session and discussed the best solution for your needs you will be  invited to sign up for a 'Pilates 6 week Course' to suit you.  Whether it be a bespoke programme of 'one to one' sessions (with or without rehab), or within a class environment, all your sessions will be with an East Devon Health & Fitness Qualified Instructor. Course's  will normally roll-over on a 6 weekly basis.
What's Different about Pilates...
… with a qualified East Devon Health and Fitness Instructor.
Your Instructor with her extensive experience including 'sports massage therapy' background, brings that extra knowledge to her teaching, enabling an overall holistic approach to her instruction, accommodating your needs, what ever your specific challenges. Lindsay is equally at home teaching on a one to one basis, or in one of the small group classes (At most 12 participants, insures maximum benefit to you).
All necessary equipment for mat based Pilates, including; mats, gym balls, resistant bands and weights etc. are available to you during all classes along with appropriate instruction.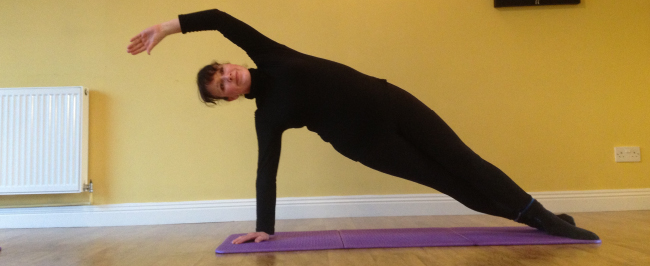 Pilates Courses
… with a qualified East Devon Health and Fitness Instructor.
New courses start regularly  (see resources for details of the dates and cost for the next available courses).